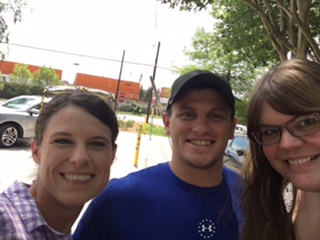 J.S. with Strickland Webster attorneys, Sydney and Leigh Ann, a week after we secured his release from custody.
sHAW V. STATE, GEORGIA COURT OF APPEALS
J.S. was tried and convicted of aggravated assault and aggravated battery in Monroe County, Georgia, after a fight at a Waffle House. J.S. was initially sentenced to 10 years in prison and 10 years of probation. Strickland Webster began representing J.S. during his Motion for New Trial, shortly after his trial. We presented extensive evidence on his behalf, and on appeal, the Georgia Court of Appeals agreed that J.S.'s convictions must be vacated, due to improper jury instructions and the ineffective assistance provided by J.S.'s trial lawyer. We negotiated with the DA's office for J.S. to enter a plea that allowed him to be immediately released from custody. Read the appellate decision here.
UNITED STATES v. JENKINS, ELEVENTH CIRCUIT
F.J. was convicted and sentenced of charges related to tax fraud in the Northern District of Georgia. We were of counsel to his attorney during his appeal to the Eleventh Circuit Court of Appeals. On appeal, the Eleventh Circuit agreed with us that the district court had improperly calculated his tax loss amount and remanded for resentencing. Read the opinion here.
UNITED STATE V. WALKER, ELEVENTH CIRCUIT
C.W. moved to terminate his $25,000 fine, imposed in 1995 as part of his sentence. The district court denied the motion after concluding that it did not have the authority to do so. We represented C.W. on appeal, where we successfully convinced the Eleventh Circuit that the district court had the authority to terminate the fine. Shortly after the case was remanded, the district court terminated C.W.'s fine. Read the Eleventh Circuit's opinion here and see the order terminating the fine here.
LOPEZ V. STATE, GEORGIA COURT OF APPEALS
After a two-week trial, J.L. was convicted on a variety of counts and sentenced to 100 years, with 50 to serve in custody. We litigated J.L.'s motion for new trial and appeal. On appeal, the Court of Appeals agreed that the trial court had deprived J.L. of a fair trial when it allowed the State to introduce four separate gang experts to testify about a wide variety of matters, but then refused to qualify J.L.'s proposed gang expert as an expert. The Court agreed with us that preventing J.L. from putting up this crucial testimony meant that J.L.'s Gang Act charges had to be vacated. Read the opinion here.
STATE V. BRIGHT, DOUGLAS COUNTY
R.B. represented himself at trial, after which he was convicted and sentenced to 25 years to serve in prison. He was deemed ineligible for parole. We represented R.B. in his direct appeal, and convinced both the State and the court that he was entitled to a new trial because he was never adequately informed of the risks of proceeding pro se at trial. See the trial court's order granting R.B.'s motion for new trial here.
IN RE L.M., BOARD OF IMMIGRATION APPEALS
L.M. applied for cancellation of removal, but the immigration judge determined that a prior conviction for failing to pay child support, called child abandonment in Georgia, barred him from relief. On appeal to the BIA, we argued that because the crime of child abandonment in Georgia was not like the crimes of child abandonment and neglect in other states, L.M. was not actually barred from applying for cancellation of removal. The BIA agreed with us and remanded the case for further proceedings. Read the BIA decision here.
IN RE E.B., BOARD OF IMMIGRATION APPEALS
E.B. is an Ethiopian national who fled to the United States after being arrested and beaten because of her political activity. She applied for asylum so that she would not have to return to Ethiopia, but in Atlanta, one of the nation's harshest immigration courts, she faced an uphill battle. Prior to hiring Strickland Webster, her application for asylum was denied by an immigration judge three times, appealed to the Board of Immigration Appeals ("BIA") twice, and remanded from the Eleventh Circuit twice. We appealed the latest denial of her application of asylum to the BIA, and much to our relief, the BIA sustained the appeal and ordered that E.B. was eligible for, and deserving of, asylum. Read the BIA decision here.
If you need legal assistance, please call 404-590-7967 to speak with one of our attorneys now.
THINK WISER V. BOWEN, GA COURT OF APPEALS
A landlord wrongfully withheld the security deposit of our clients, M.B. and S.B., forcing them to file suit. The landlord in turn sued them for damages to the home. After a civil trial, the court found in favor of M.B. and S.B. However, the landlord appealed. We represented M.B. and S.B. on appeal, and successfully defended the trial court's decision. The landlord attempted to appeal this decision to the Supreme Court, but we convinced the Supreme Court to decline to hear the case. Read the appellate decision here.
STATE V. HINESMAN, DEKALB COUNTY
J.H. entered a plea in the Superior Court of DeKalb County that was going to require him to serve several months in jail. After he retained Strickland Webster, we were able to postpone his scheduled reporting date and to negotiate with the prosecutor so that he could withdraw his plea and enter a nolo plea to a misdemeanor. With credit for time served, J.H. was not required to serve any additional time in custody or to be on probation.